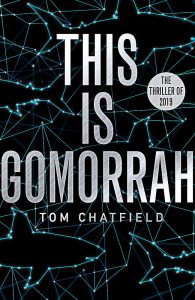 This is Gomorrah (Hodder, 2019)
A darkly satirical thriller set in the technological underbelly of the 21st century.
If you know what you're doing, you can find anything on the internet. Drugs, guns, porn, ideologies, elections, even lives and deaths are all up for sale . . . and everything must go.
Elite hacker Azi Bello is a loner and charmer who works for himself and answers to no one – until his online existence crashes violently into the real world.
The secretive but intriguing Munira has reached out for help, and her story has sparked his interest: Munira's cousin has been recruited by terrorists and, in her attempts to find out more, she has attracted the attention of some very dangerous people.
Forced to go on the run, Azi and Munira are drawn into a conspiracy, at the heart of which is Gomorrah: an exclusive online marketplace where anything can be acquired, and where the world's worst individuals lurk. As he throws himself into uncovering Gomorrah's dark secrets, it isn't long before Azi realises that the stakes are high and the risks even higher when you're no longer behind a screen.