My beautiful new "Live This Book!" has just been published by Penguin: a journal that asks you to put pen to paper, and consider what it means to spend time with the things that truly count in life, love, work and leisure.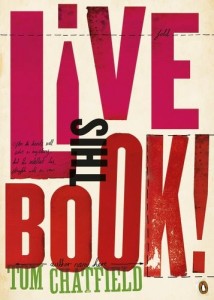 I'll be speaking, writing, collaborating and exploring around it over the coming months: from events at The School of Life and Google to talks on the Southbank, via the Barbican, Manchester, and further afield.
If you're intrigued, please do drop me a line (tom
chatfield
gmail
com?subject=Live This Book) . This isn't an anti-tech book. But it is about negotiating richer relationships with and through digital tools, and the importance of stepping back from each screen to ask what a rich engagement with life really looks like.